The
OLYMPIA
Sailing Canoe
Olympia is an utterly unique high performance sailing canoe, designed to be easily car-topped, easy to carry, inexpensive, easy to build, and - most of all - extraordinarily fast.
Olympia was built to the archaic 1935 ACA "16-30" racing rule, which sets dimensions at 16 feet long, with a whopping 93 square feet of sail area - all on a hull only 30 inches wide! And, uniquely, Olympia utilizes skin-on-frame construction, so her hull, at just 65lbs, is half the weight of other boats in her class.
Highlights
She's sailed from a sliding plank seat (the "poor-man's trapeze") for comfortable and effective hiking.
Forward and aft canting daggerboard for both simplicity, and ultimate helm balance.
With multiple mast steps, Olympia can be sailed with a variety of rig configurations - as a single sailed una rig (less sail area), as a traditional canoe yawl, or as a sloop (with the mizzenmast taking place of the forestay, and the mizzen becoming the jib). There's even a stick-up rig option, as well as the learner's rig.
Freestanding masts for quick set up.
Hollow rectangular mainmast - it floats, and keeps the boat from turning turtle.
"

X

" section secondary mast and mainsail boom - lightweight and rigid
Sleeved luff and an integral batten spritboom for the self tacking jib/mizzen.
Skeleton tiller with single or dual tiller extension options
Floatation foam pillars also add rigidity
Easy to build, and designed to use existing drop-in rigs - like a Laser rig, or even a Sunfish's - rather than having to start from scratch.
Olympia's hull is based on a larger 1980's hard chine
International Canoe
hull. Construction is of Meranti marine ply frames, with Western Red Cedar stringers, and she's skinned with 8oz polyester coated with oil based paint. Masts are Sitka Spruce (main) and Cedar & Spruce (mizzen/jib). Boom is Douglas Fir. The paint scheme is 17th century Dutch warship.
Note that Olympia is not suitable as a sailboat for most people - she will be difficult to sail, and will require good dinghy handling skills to even get going. But, if you've got the chops, she's an easy to build boat that will easily outperform 95% of the dinghy fleet - while costing many thousands of dollars less.
Here are some preliminary pics of the hull. More pics to come as sail testing progresses. After much testing - and assuming she doesn't just break in half - I will be making plans and frame kits available for other builders.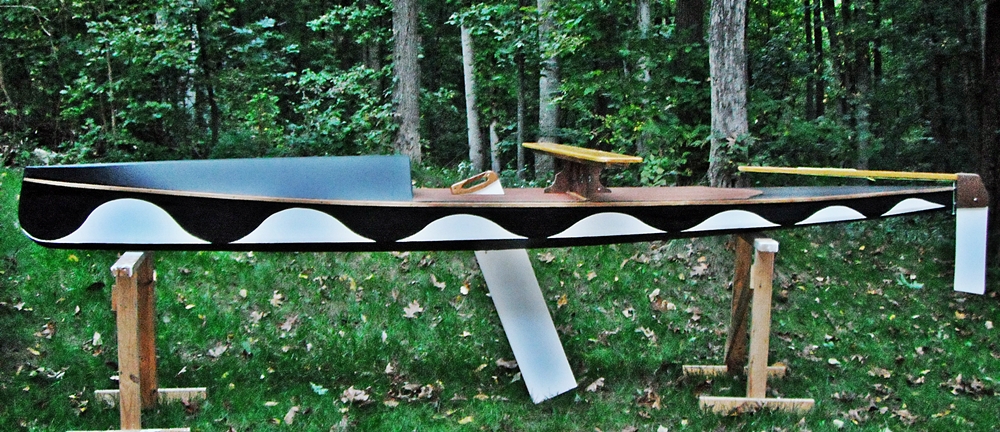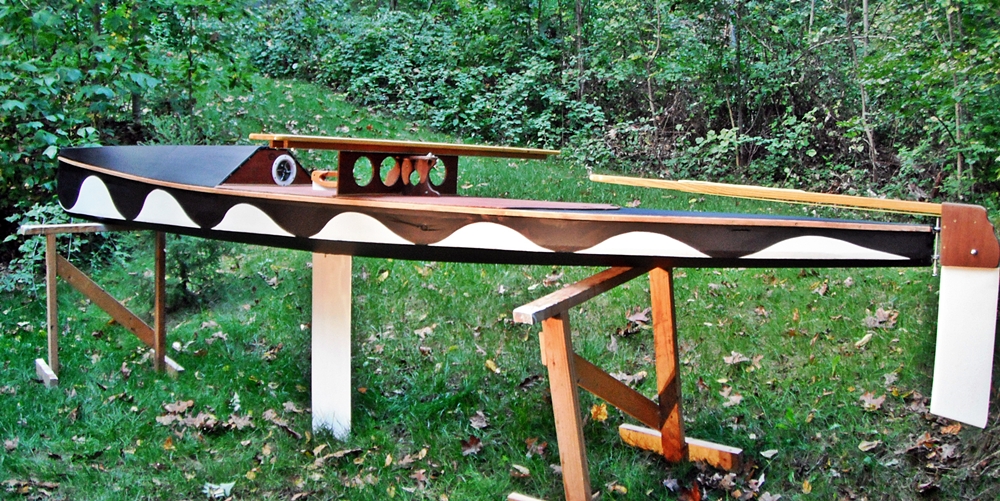 Home
Back