Home A true racing scull for home construction Back


Veloce'
The world's first quick, easy and quite inexpensively built racing scull.
Three different lengths for different sized rowers: 24', 26' and 28'/ 7.32m, 7.92m and 8.53m.
Beam is 12" / 30.5cm for all lengths.
Hull weight, before rigging, was 35lbs / 16kgs for the 24' boat.
Sculls are long and extremely narrow, yet have to be very stiff and lightweight to be competitive. So the skill level needed to build one is very high and, for generations, almost every racing shell on the planet has been supplied by professional boat builders. There were exceptions, of course, but for most, the dream of building one's own scull was just that. But I knew that skin-on-frame was the easy solution to build a long, yet light and stiff boat, and I was confident that a SOF racing scull would work. So, for months I researched shells past and present, measured as many different sculls as I could find, and came up with Veloce'.
Veloce' is a rowing shell for racing and training for flat water, Olympic style rowing events – or simply for keeping fit*. She is a racing craft, but at the "club boat" level. Like those, she will not be at all competitive with a high end sculls, Veloce' is meant for those who want to row for fitness, for rowers without a local club, or for those who competed during college or high school, and want to get back into it without a major outlay of cash. And, sadly, in these days of social distancing all former group rowers need singles if they wish to keep training. Veloce' is an easy fix.

Veloce' is built of 6mm Okoume marine plywood, with cedar stringers and is covered with lightweight aircraft grade polyester fabric. Plans come with full size templates for all the frames, so no lofting is required – just place them over the plywood and saw along the lines. The well illustrated, step by step instruction guide covers every facet of construction, and explains everything one needs to know to build the boat. The guide is, in fact, geared for novice builders who would rather have a boat than spend their time learning all about boat building. Plans also include instructions for building a complete sliding seat rig, as well as for building a pair of sculls (oars).

Tools needed to build Veloce' are just a jig saw and a drill (at the very minimum – a circular saw would also be quite helpful), plus a few hand tools. Major material costs are a single sheet of plywood, a few western red cedar boards, the fabric, a small amount of epoxy, stainless steel/inox screws, two liters of paint and/or varnish and a few sliding seat components: rails, seat carriage and oarlocks. Sources for all the hard to find things are included in the building guide. Ibuilt the prototype in two weeks or so, for about $300USD. You will very likely take longer, and it will possibly cost more (depending on your location) . . . but not a lot more.
* For those of you unsure, Veloce' is 12" / 30.5cm wide, inherently unstable (as all sculls are), and is not to be confused with recreational or open ocean style shells.

Scroll down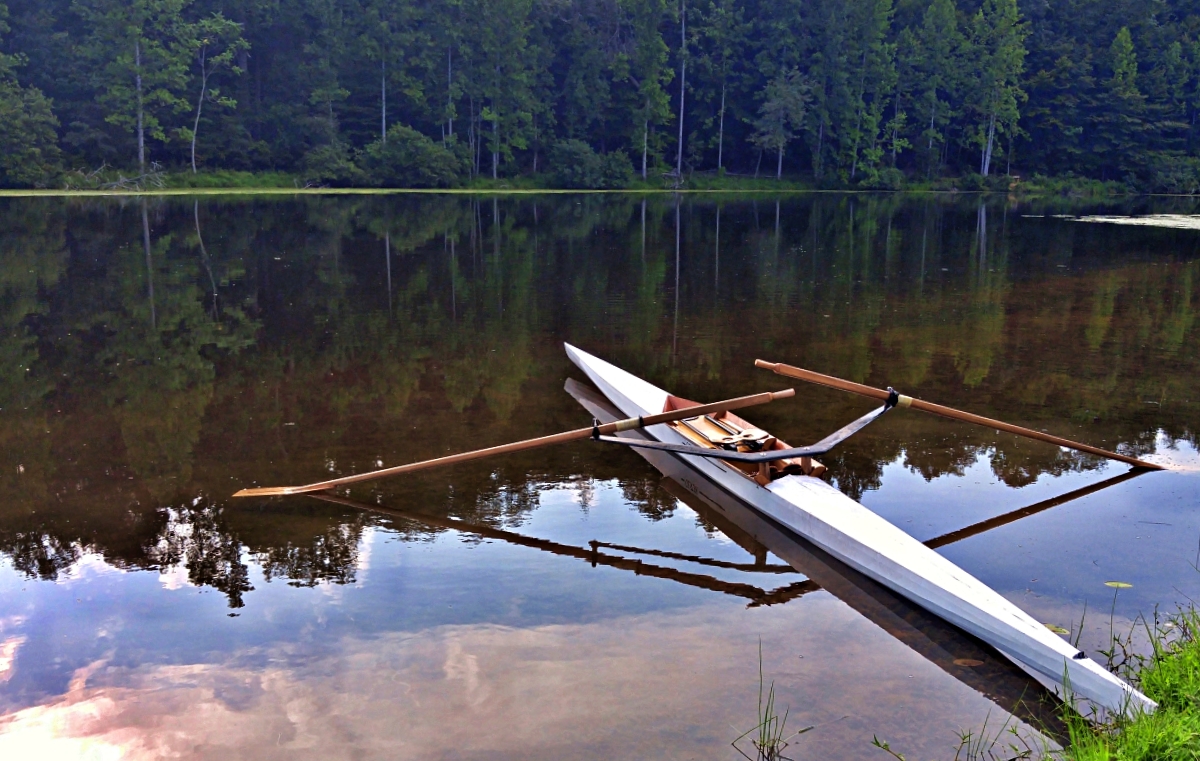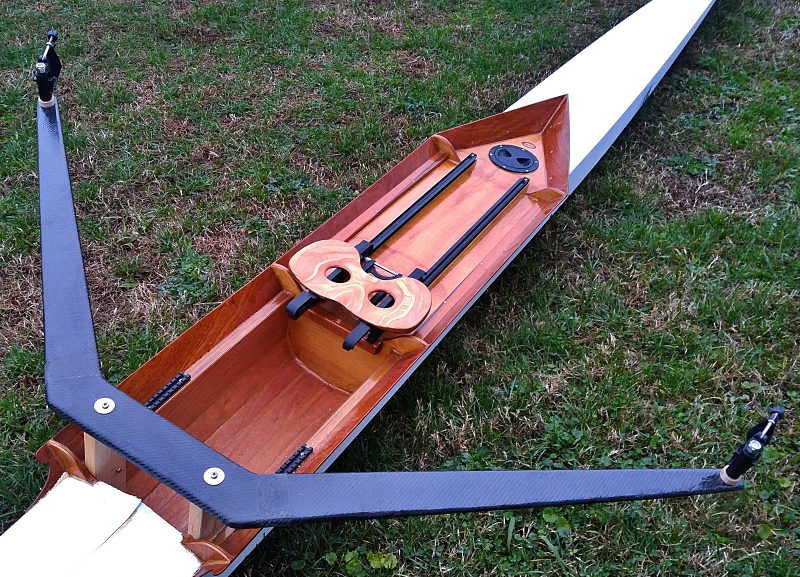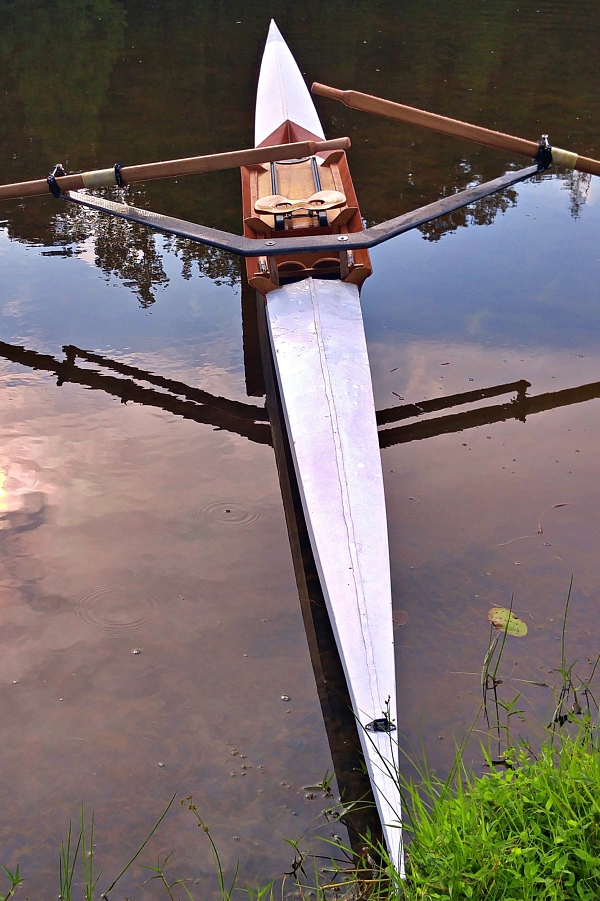 Top
crew, head of the charles, regatta, rowing shell, wooden rowing shell, wooden racing scull, amateur built, scull, oars, rower, rowing, sculling, SOF, skin-on-frame, Dyson, Yost, Montfort, oxford, merry, firefly, angus, chase, wherry, rowboat, pulling boat