What's New?
Scroll down and see!
2018, so far:
- I finally took the time and made the effort, and digital plans and professionally printed patterns are now available for some of our designs! Hopefully it won't be long before the rest follow suit. See the plans page for details and ordering.
- Our latest design, built and tested. She's called the Great Wicomico - a 17' x 38" / 5.2m x 96cm family or expedition sized SOF canoe. My wife, daughter, dog and I together are all very comfortable in her, and she paddles great! Haven't yet started on plans, but hopefully it won't be too long.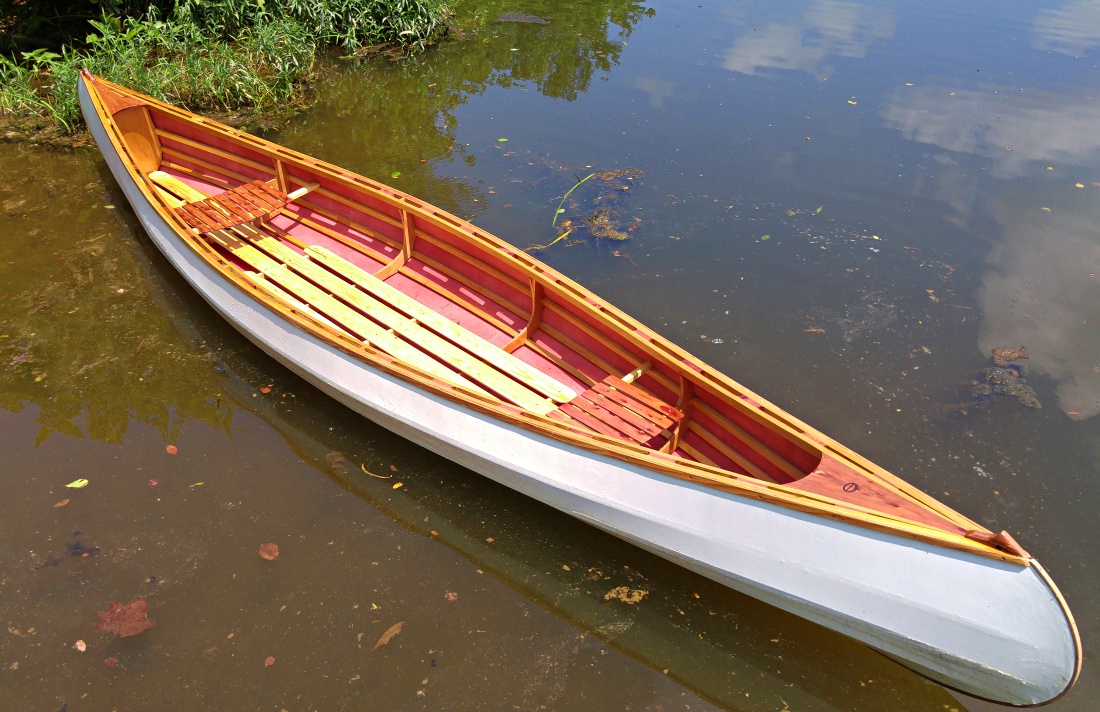 - The Indian Creek motor canoe prototype has undergone testing, and plans for her are nearly ready. She goes great under oars or electric motor. I trust she'll also do well with a gasoline outboard motor (a maximum of 2hp is her rating). Test results "soon."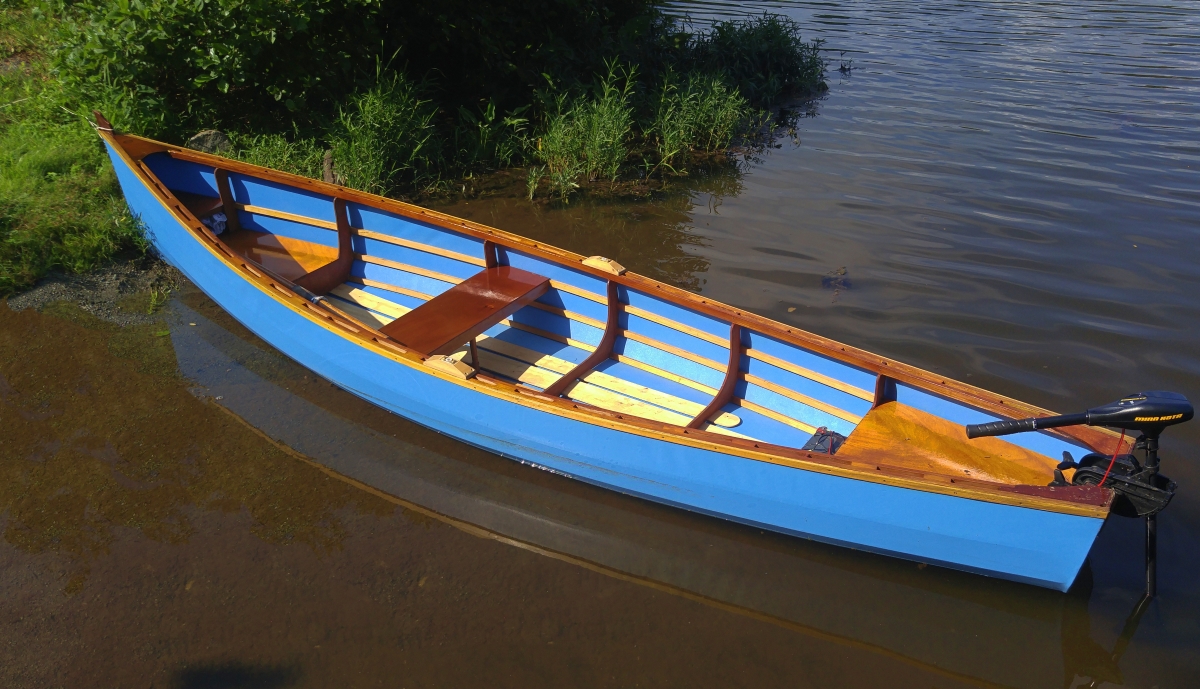 - The Veloce' rowing scull hit the water, finally. She is a blast, works great, and the lake seems much smaller when one goes that fast. Some testing by a competitive rowing coach to come soon, and plans shortly thereafter.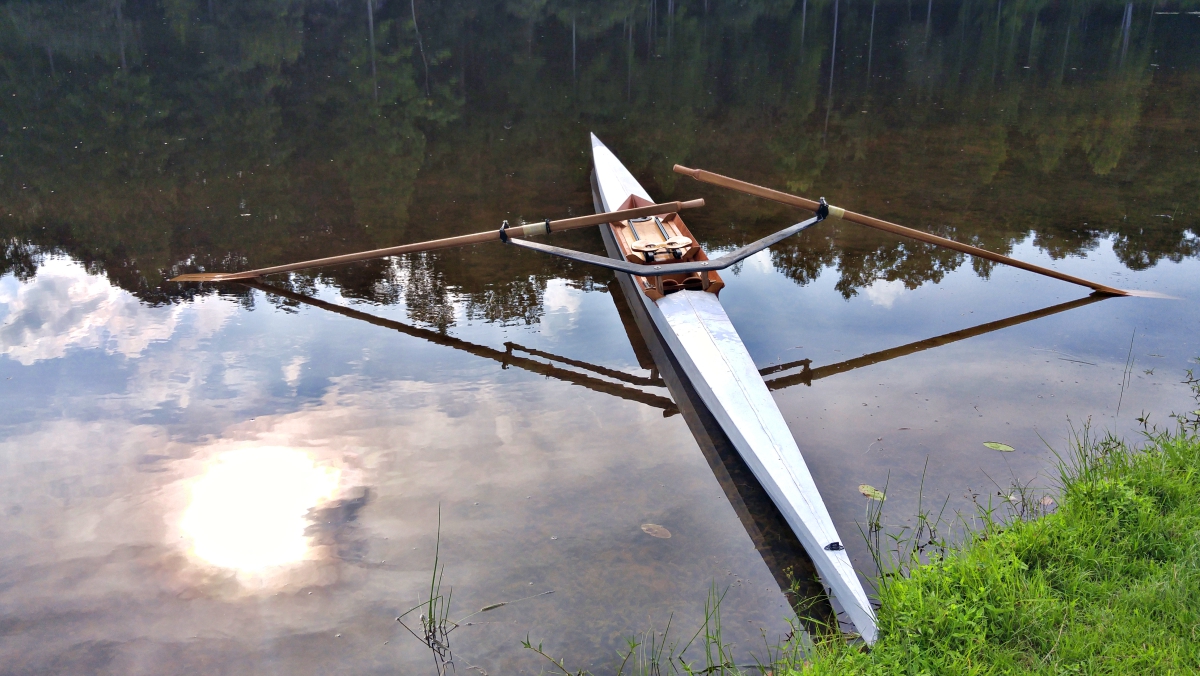 - My daughter is thrilled about her 6'/ 2m Ladybug canoe - especially now that I have finally gotten around to connecting her to the mother ship. She gets to paddle her own boat right next to Dad, and the ride is extremely stable. When she gets ready to venture out on her own (closely supervised, of course), the integral lash points can mount single or double outriggers. Plans available "soonish," as usual.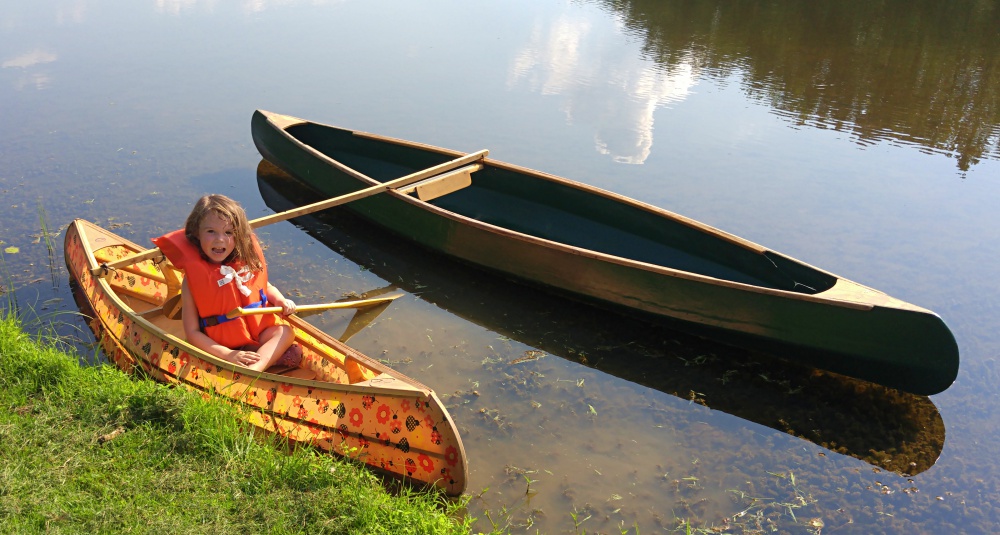 The green plywood canoe in the photo is a Chingadera, designed by the late Thomas Firth Jones. I built her for my Dad, on a tiny porch 20+ years ago, with not much more than a drill, a jigsaw and a hammer (and it shows). Now that we have a child, though, I probably use this canoe the most of all the boats we have. She's just the right size - and will take the dog, too. Mr Jones gently chided me about the shortened inwales, btw.
- Back in March of this year, I sailed the Perahu Katir at the Everglades Challenge, and did some fast and truly fantastic sailing. She had zero issues, is the dryest small boat I've ever sailed in rough waters. I think only one wave splashed over the rail the entire time. But, there were many miles of paddling required, and with all that wetted surface it got to be a chore. And, like most all multihulls, she is not quick to tack, which was an issue in some of the busy channels.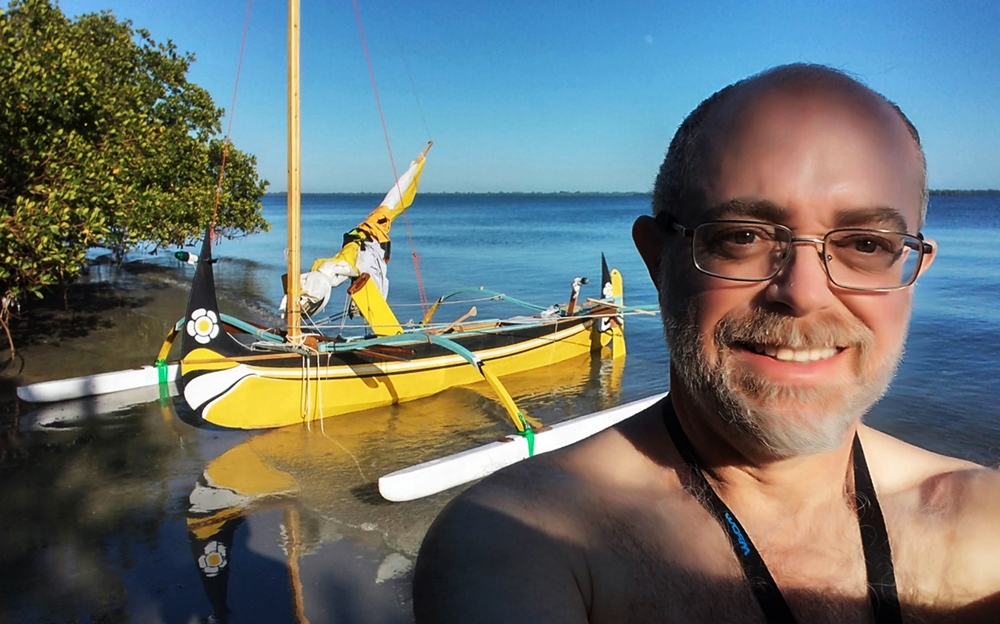 Already started on the new boat I'll take to next year's EC, though - a sail and oar "ZeePunter." If you haven't heard of a Punter, you are not alone - or from the Netherlands.
- I should mention that editing the build photos and writing a building guide takes me a great amount of mind numbing effort, with plenty of 18hour work days - and a few all-nighters. It's hard to muster enthusiasm for that . . . especially when the weather is just right for building the next boat.
2017
11/2 -Started on a new expedition style sea kayak. Big and comfortable, and will come in 17' and 15' lengths (5.2m or 4.6m).
10/7 - Finished up the Indian Creek motor "canoe." 15'9" x 40" and about 65lbs - 4.8m x 101cm 29kg Need to do some work on the motor and then do some testing. She'll also make a servicable rowboat.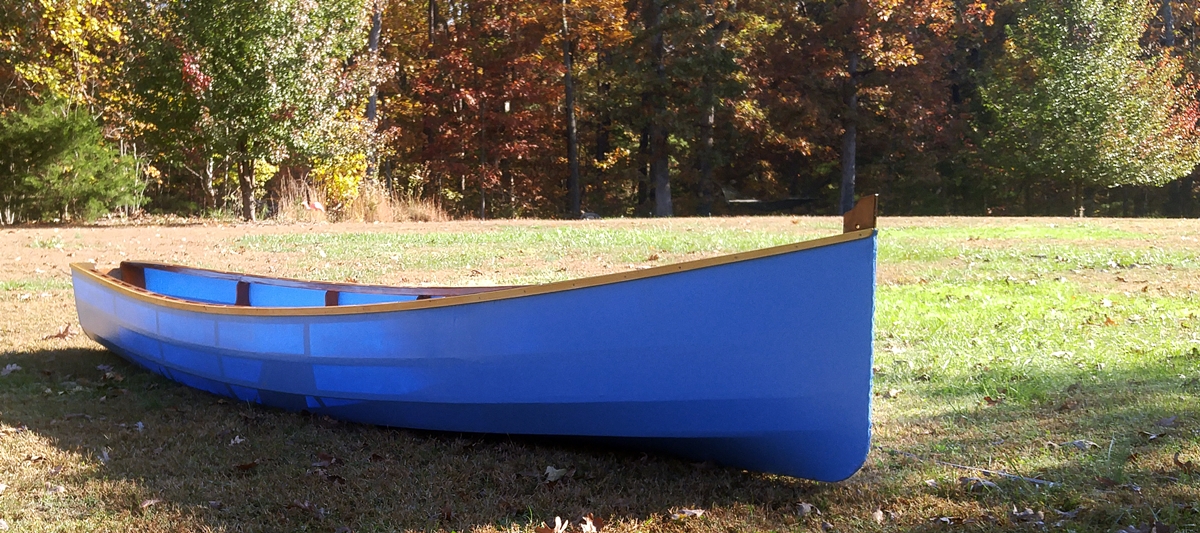 10/1 - Check out the feature article about us this month in my new favorite magazine - Watercraft.
9/20 - The prototype of the Big Aloha (or "Aloha Oe"? - I havent quite decided on the name) has hit the water, built and tested by the indomitable Brian Scarborough. Faster - and less stable - than the Lanui, with a max paddler size of around 230lbs/104kg. Plans coming soonish.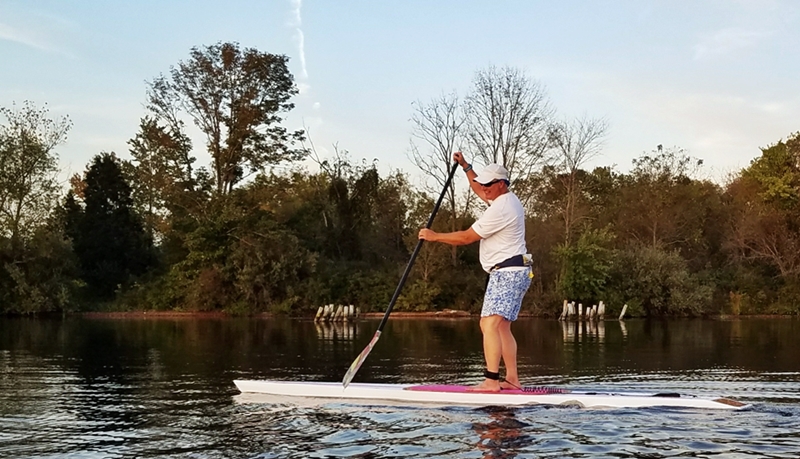 8/1 - Ladybug, a 6' / 2m canoe I built for my 3yr old daughter. Assuming any requests, I'll likely have plans available in the spring.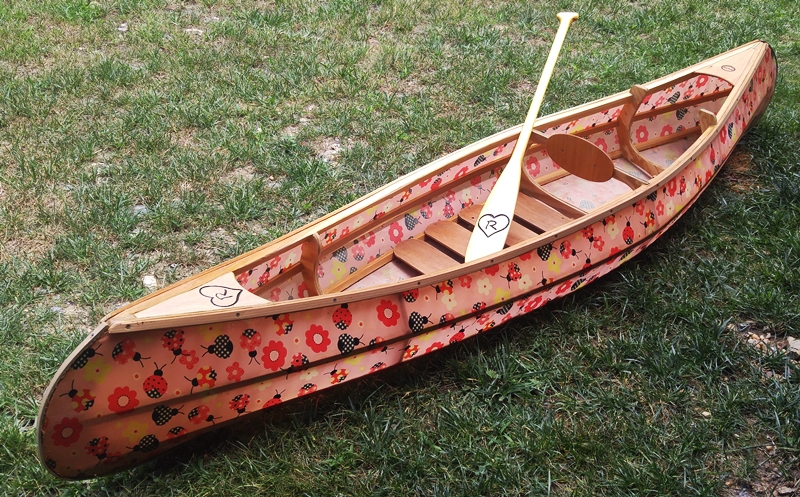 6/25 - Updated the RUTH page and added many new pictures. Check it out!
6/21 - Plans for Chautauqua available, finally! It took me many more hours to write these than it did to build the boat . . . .
- I wrote an article about Chautaqua that will be in the next issue of the British small boating magazine Watercraft .
- I've started building my next project! She's a 16' motor canoe.
5/29 - Building of the prototype of the Big Aloha SUP should begin shortly. Testing and then plans to follow.
We are planning on attending the Eastern Messabout, June 2-4 at Martinak State Park, Maryland USA. Come join us and many amateur boat builders for fun times and good boating. Check out the facebook page, here.
New! 3/23 - Plans are now available for the Aloha stand up paddleboard, here. This is the easiest of my boats to build and - as long as it's warm enough for the paint to dry - completion in a weekend should present no problems.

New! 3/19/2017 - Plans and kits are now available for the Chuckanut 17 expedition sized kayak. Check her out, here!

New! 3/10 - The Chautauqua decked sailing canoe is finished, and she's just fantastic. I recently got back from sailing her in the Everglades Challenge, along the W coast of Florida, and she really shined - often in conditions she was never, ever meant for. Plans and kits available "soon." Chautauqua: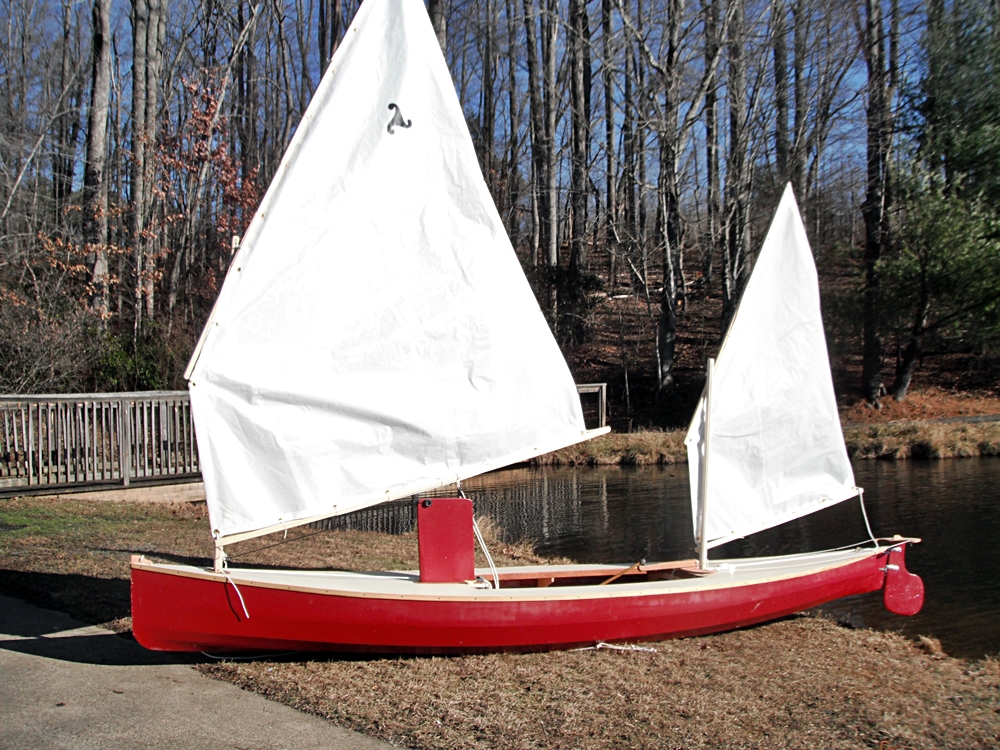 Twenty one years after their last volume, WoodenBoat magazine has published another in their series of study plan books. And, three of those featured - and the first ever SOF designs - are from Gentry Custom Boats! The Chuckanut 15, the Annabelle Skiff and Ruth are my boats reviewed - but check it out for yourself.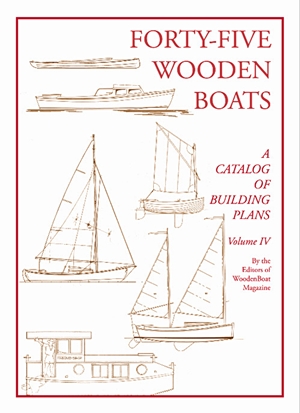 *My new decked sailing canoe, in SOF, is almost completed, and I hope to be testing her soon. Here's a sneak peak: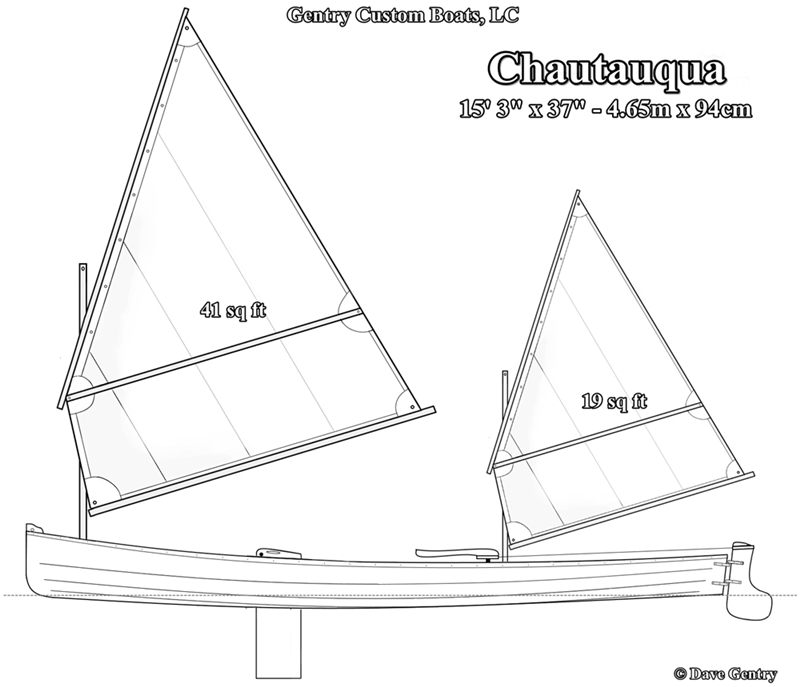 * Just a pic of the Chuckanut 12"S" I recently completed for my MIL. The "S" version is narrower than the standard C12.


But wait, there's more!

* Plans will available later in the Spring (hopefully) for all these boats (which need more on the water testing):
The 17' / 5.2m Perahu Katir double outrigger sailing canoe -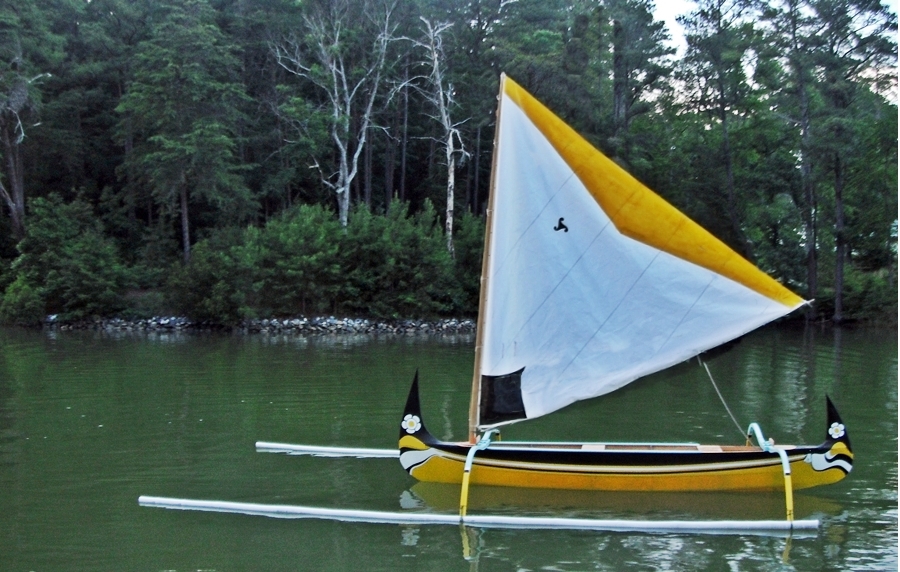 Here's a short video of her, in light winds.


* Did you row in school? Do you want to get back into it, but don't want to shell out thousands of $$ for a boat? Here's your answer: The Veloce - an easy and inexpensive to build rowing shell.



24' x 12" and 36lbs / 7.32m x 30.5cm and 16kg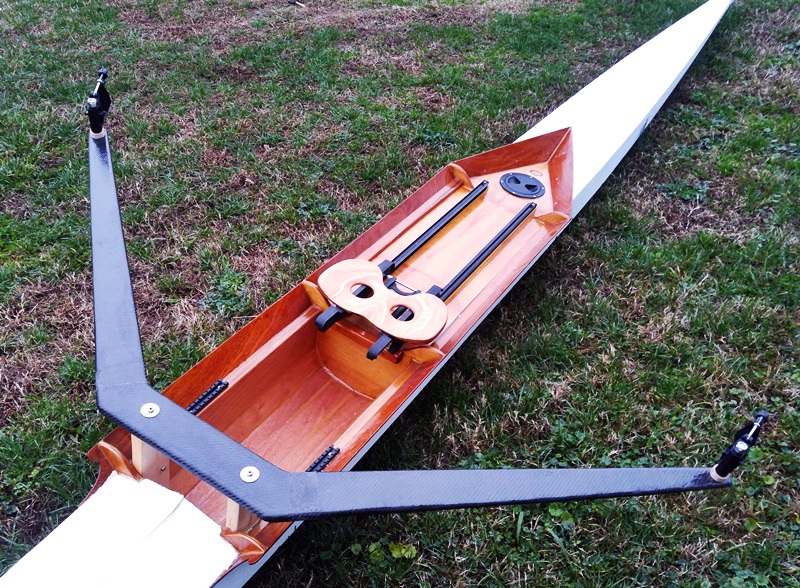 * Here are a couple of "How To" videos:


* And, finally (for now), just finished is the Cortez Scallop Skiff - a rowboat for kids! 7' x 3' and 18lbs / 2.13m x .91m and 8kg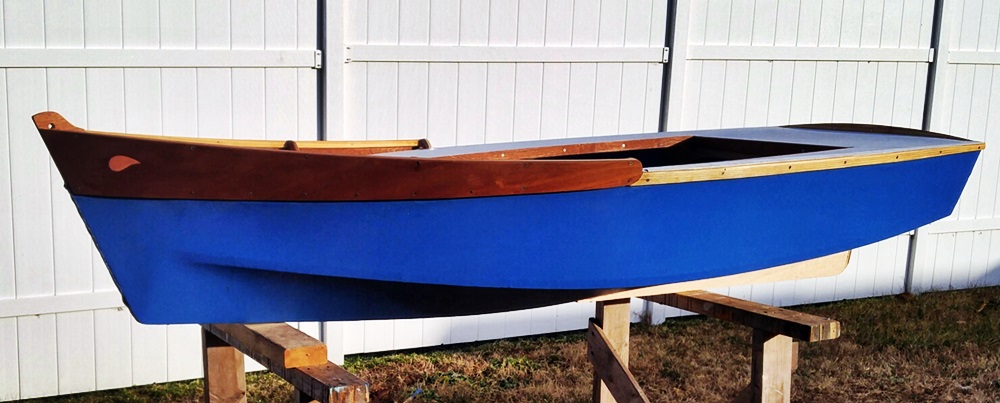 New boats are always in the works, so check back here regularly! HOME