Here you can order complete plans and frame kits for several of my
more popular boats (these)
Scroll down, or click here:

Ordering
Contact us here for questions: GentryCustomBoats@yahoo.com
{Click
here
for info on custom orders, or completed boats or paddles I might have available for sale.}

If you order plans, and later want a kit instead, we will deduct the cost of plans from the kit price.
What you get:
First of all, you get personal support: Though most questions are covered in the
building guides, I am always happy to answer questions during your build!
Plans
- Boat plans include a comprehensive, well illustrated building guide,
material and tool requirements and full sized frame patterns. The construction
guide includes complete instructions for building the frame, skinning the hull
and coating the fabric - as well as sources for fabric and hardware.
Frame patterns are traced from templates onto heavy recycled paper - just cut them
out with scissors, glue to your plywood, and saw along the line - no lofting required!

Patterns for transoms, cockpits, knees, mounting brackets, etc are also included,
depending on model.
Here is a pic of what you get - the patterns are simple and effective, but not professionally
printed. The low-tech approach allows us to save on printing costs, and helps keep our plans prices low.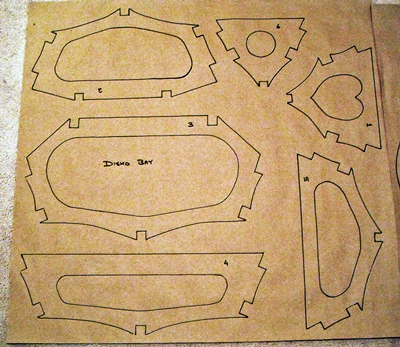 Full sized patterns
Frame Kits - Frame kits include the building guide, pre-cut frames, transoms, knees, etc,
and all the fabric needed to skin your boat. Due to shipping costs and difficulties kits do
not
include the longitudinal
stringers (Gunwales, chines, keel, et al.), or spars, nor epoxy or fasteners. Sailboat kits do include wood for the foils,
but do not include sails.
*Kit Special!*
All kits are supplied with highest quality BS1088 Okoume marine plywood at no extra charge!
*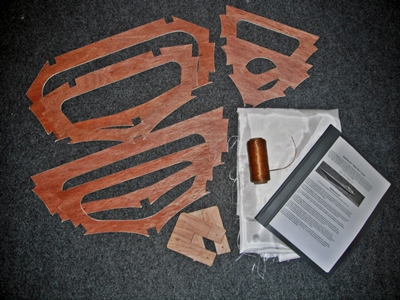 US and Canadian shipping for plans is $3.00. Other countries - select the
International Priority shipping option in Paypal checkout. Overseas shipping for plans is only $10US
A plan or kit licenses the purchaser to build a single boat, for non-commercial purposes only.
Ordering plans is easy: Use Paypal by clicking a button above -

no

account with them is necessary, and you can pay with credit, debit or check.
We use the US Postal service to mail plans and ship kits. We don't get tracking numbers for plans, but we typically ship plans the next business day
Also -
Please add a note to your order telling how you heard about us.
Thanks!
*Ordering kits:
Kits are ordered via email, in case there are options to discuss. Send an email, and we'll send you a paypal invoice.
Turnaround time for kits is usually under a week. Shipping is usually less than $50 in the USA.
Contact us at:
GentryCustomBoats@yahoo.com